Medical Glove Plant
Arrangement for Examination Gloves Surgical Gloves
General working of the machine
In the frame a chain is situated that is moving continuously around the top and bottom level of the machine. Turning movable formers are connected to both sides of the chain. The formers can turn and also move up and downwards on the chain. The formers are connected to the suspension by means of quick coupling. The speed of the chain with the formers can be electronically adjusted.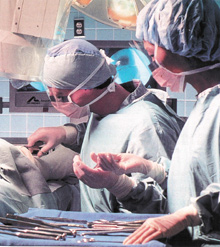 The formers pass several stations (see quotation) and at the end of the cycle stripping can be done manually or automatically.
The machine is delivered in modules in order to be quickly assembled at site. It is possible to fully operate within a month, provided that all necessary preparations in the factory have been completed. Technical test running with the machine is done in Holland before shipment. De-mounting of the machine in the presence of
Technical engineers of the buyer is an advantage for faster re-assembly at site.
The machine can be executed in all voltages and the power supply of the ovens can be done by gas, electricity or oil (up to the buyer).
The machine is painted in white.
Medical Glove Plant
HIGH VOLUME CHAIN PLANT FOR CONTINUOUS PRODUCTION OF Surgical Gloves and Examination Gloves
Type: CP111M/4000/5000
Output: 4000/5000 pieces/hour
NR LATEX DISPOSABLE EXAMINATION AND SURGEONS GLOVES CONFORMING TO ASTM STANDARDS D3577-78a & D3578-77; BRITISH STANDARD BS4005:1984
Designed for high volume, low cost output, the plant is a double chain conveying system operating along two horizontal planes in a continuous loop.
To ensure consistent high quality of product output, formers are dipped vertically. Rates of entry and withdrawal can be varied independent of chain speed. Formers are cleaned thoroughly on each cycle.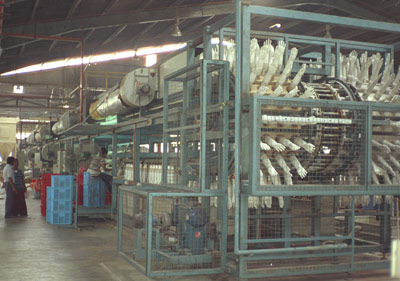 Sensitive electronic control of chain speed ensures smooth chain operation, compensating for load vari­ance and chain tension. Reliability, minimum main­tenance and long chain life by avoiding undulating track.
Oven zoning with individual temperature control en­sures cor­rect temperature gradient. Gloves come off the dry line dry and fully cured, ready for testing and packaging.
Disengagement system enabling all dip stations to be in­dividually and selectively bypassed. Triggered as shut-down, it avoids product wastage.
A versatile design to meet customers' individual needs.