Large Balloon semi-automatic
Short description of the working of the machine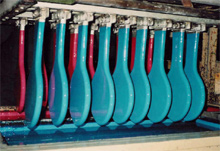 A frame with formers is put in the sliding frame in the machine.
These sliding frames can slide into the machine automatic from left to right and from right to the left back side.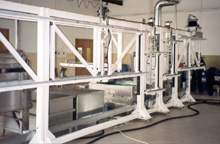 The frames with formers consist of a rack where the formers are mounted on. Every rack can be slid in and out of the sliding top-frame.
The quantity of sliding frames in the machine is 21 pieces.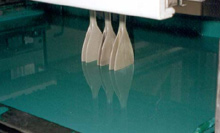 All sliding frames with formers-racks can be moved computer controlled (PLC) up and down in the dipping stations. Only for latex- and coagulant dips.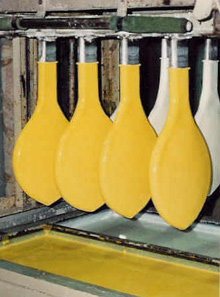 For dipping in other liquids ( coagulant/ de-tack ) this dip-movement is not computer controlled. The speed, dip-depth and dip-time is manual adjustable.
The machine consists of dipping frames, dipping tanks and ovens, beading and stripping must be done manually.